Steel fabrications
Our fabrications bay houses 6 separate welding and fabrication stations, each capable of working up to 12 metres.
All of our welders and fabricators are fully coded to the CE marking of EN1090 execution class 2.
Metal fabrication is the process of manufacturing products from raw material using individual processes such as cutting, bending, welding, grinding and assembling. Metal fabrications include everything from metal fences and hand railings to the panels that comprise the frames of articulated lorries.
Fabrication begins at the design stage. Once the need for a product is identified, work begins on designing a product to best satisfy the users' requirements. A drawing is prepared highlighting the appearance of the item, the raw material requirements, the necessary production processes and the intended use of the product. If required, B.B. Price can provide bespoke fabrication products. 
Cutting is perhaps the most common process used in metal fabrication. Standard sized sheets/bars of metal are split into halves, thirds or cut to length to facilitate the needs of the product. Cutting can be performed on a range of machinery including laser cutting, saw cutting and integrated into high-tech, multi-process machinery.
Bending, or folding is a more complicated procedure to produce a V-shape, U-shape, channel shape or other angle to meet the product's requirements. The most common form of bending involves a punch/press pushing the raw material into the shape of a die (the convex shape of the die), forcing the raw material to take the shape of the die. Due to the natural strength in the composition of steel, these bending devices are required to possess considerable pressure for their pressing power.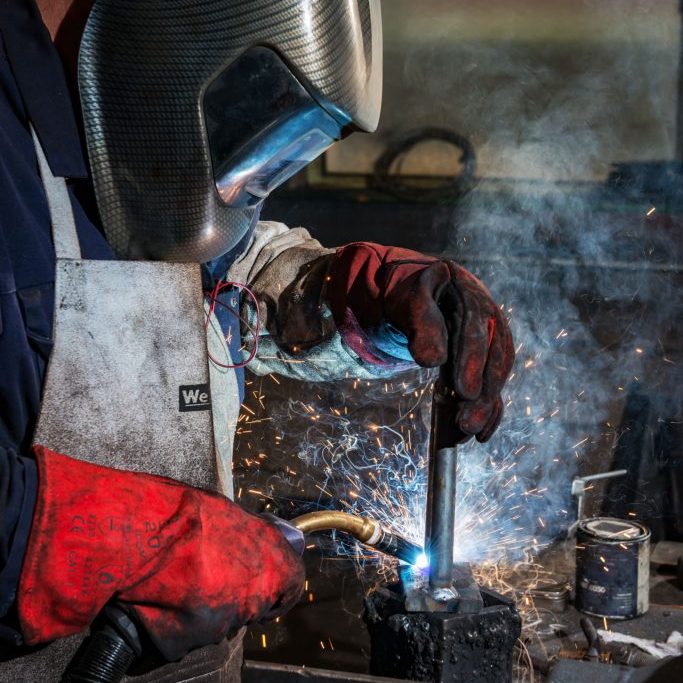 Welding is the most commonly associated process with fabrication, whereby two separate pieces of metal are joined together. This is typically done by using a high heat to melt the materials together and as the materials cool, they are fused together. A filler material is often added to the join which forms a molten material edge which can sometimes be stronger than the base material itself.
Grinding is another process commonly associated with fabrication. Whilst grinding is seen as a subset of cutting, its main purpose is to provide a high-quality finish and enhance the accuracy of the intended shape. The process involves using an abrasive wheel to shear, or chip off small pieces of the surface that is being grinded, similar to rubbing sanding paper against wood.
The final aspect is assembly which in simple terms is putting various pieces together to form the finished product. This may include a certain number of washers or bolts being added to the appropriate section of the product.
Find out more about steel fabrication at B.B. Price today. With a team of steel fabrication specialists on hand, we are able to provide the highest-quality products for you.