Machining Company Near Me
If you are looking for a local machining company near me, look no further than B.B. Price. Based in the heart of The Black Country, we are experts when it comes to forging and machining metal to produce the products you require.
At B.B. Price, we are committed to providing precision, high levels of craftsmanship and customer satisfaction. This is what makes us one of the leading machining companies near me in the West Midlands.
Pressing is a process that uses machining to shape large metal pieces or sheet metal. At B.B. Price, we have 13 cold pressing machines, and 18 hot pressing machines available to support the processes in house.
Unlike forging, pressing includes an impactful blow that is squeezed to avoid a sudden bash. It is highly important during this process the use tools and dies to help achieve the final desired shape of metal.
Having a tool maker that can aid in the process of pressing can help significantly reduce the time of the process, ensuring that the right dies are ready for the pressing process. This helps in terms of client deadlines and costs.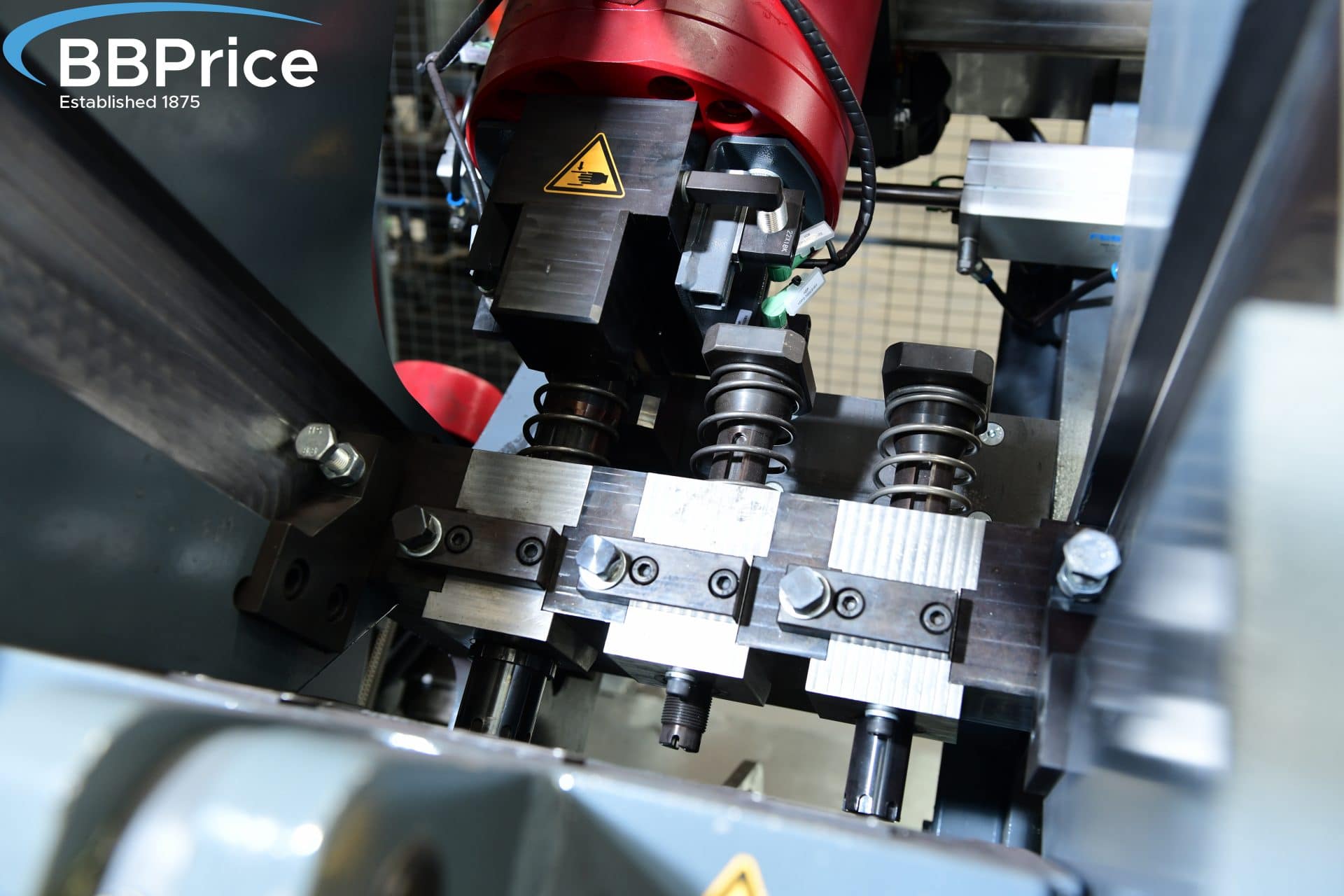 Angle Line is a highly automated process that uses a self-loading angle line machine to produce engraved, punched and cropped angle sections.
B.B. Price have the UK's sole version of this machinery; it has significantly increased production speeds and reduced the levels of scrap within the process.
This machine has the ability to perform multiple operations within the same machine, helping to improve productivity in processes overall. It has also allowed our highly skilled team to produce high precision, complex pieces to a high quality.
What is Machining in Forging?
Machining in forging may seem like an odd process as forging is a skilled, hands-on process; machining however can provide additional touches to metal work that hand forging just can't achieve to the same levels.
Forging primarily involves the re-shaping of metals with applications of heat and pressure. These products are the refined with forging and cutting tools.
The use of machining allows for far more processes to be used when shaping and making products. Drilling, grinding, turning and milling can all be done automatically with machines, making complex shapes, precision cutting and smoother surfaces possible. Machining can give way to customisation and helps refine forged products in the final stages of production, ensuring that the final product from manufacture is what the client required.
B.B. Price can offer a range of processes to help get the product that you required and desire. With everything finished to the highest standard, and all products made to bespoke specifications, clients are satisfied when working with us.
If you would like to speak to a member of our team today about how we can help you, or why we are a leading machining company near me, get in touch today.